Harare Direct Aid Program Grant 2018-2022
In 2018, Pangea Global Health Education was awarded a Direct Aid Program Grant from the Australian Government funded through the Australian Embassy Harare. The aim of this grant was to 'increase access to ongoing professional development for district-based Health Care professionals in Malawi and Zimbabwe.'
This program involved awarding scholarships to cover travel and accommodation expenses incurred by district-based health care professionals attending Pangea's programs in Blantyre, Lilongwe or Harare.
Pangea's vision is "to deliver the most effective health education in the world" through our mission to design and deliver flexible, customised, sustainable education in partnership with local health professionals. We aim to have a positive impact on community health through the delivery of our programs in low resource settings.
In 2019, we were able to travel to Blantyre and Lilongwe where 17 individuals where awarded scholarships allowing them to attend our program. Each program consisted of lectures and practical small group work, with an emphasis on interactive small group teaching. These training programs were a great success, with 180 participants attending across two locations. Attendees included medical students, junior doctors, clinical officers and nurses.
Feedback from program participants revealed that the hands-on sessions including suturing and plastering, were a highlight.  Mimi Mwale, a nurse midwife from the Nkhata Bay district in Malawi, participated in the Lilongwe program and had the following to say "I found the training really effective because I am able to give first line treatment to my patients in conditions such as pre-eclapmsia and PPH just to mention a few."
Pangea aimed to continue this project in 2020. However, as Covid-19 spread and impacted the world we were unable to travel as we had hoped. This led us to adapting our approach and providing online resources and training videos for our partners.
In April this year, we run two very successful online seminars. These seminars were attended by over 100 participants in Malawi, as well as others from around the world. They were focused on the topic of Trauma and included sessions on Early Management of Trauma, Blood Loss, Management of Brain and Spine Injuries, Burns, Abdominal Trauma and Trauma Nursing. The first seminar was specifically tailored for clinical officers, doctors and students and the second for nurses. Due to the funding received from the Australian Government we were able to provide scholarships to 30 district doctors and nurses, as well as 70 smaller scholarships for local medical professionals, enabling them to attend the seminar.
These seminars were a huge success and we received positive feedback from the participants. It was reported that 98% found the seminars helpful.
We would like to thank, Dr Gift Mulima, Dr Linda Kayange and their team in Lilongwe for the logistical organisation behind the scenes and to our speakers Kate Martin, Brad Hockey, Matt Rickard, Dan Keating, Kirsty Blair, Emma Layley and Kate Drummond.
Finally, a big thankyou to The Australian Government, Department of Foreign Affairs and Trade for providing the support and funding to make this program possible.  We are incredible grateful to be granted this opportunity to support our partners in Malawi and to be able to provide those health professionals with valuable professional development that they may not of been able to receive otherwise.
 .

Images of our Online Seminars run in April 2022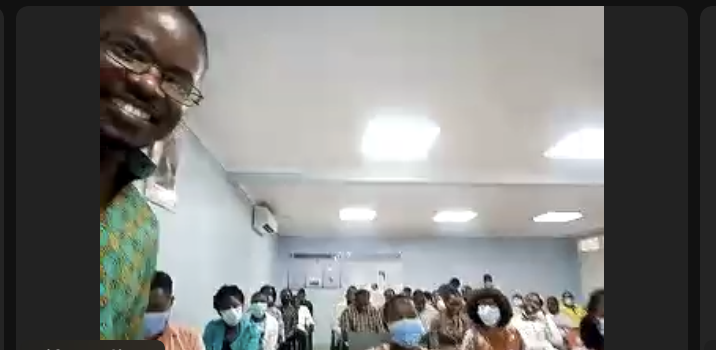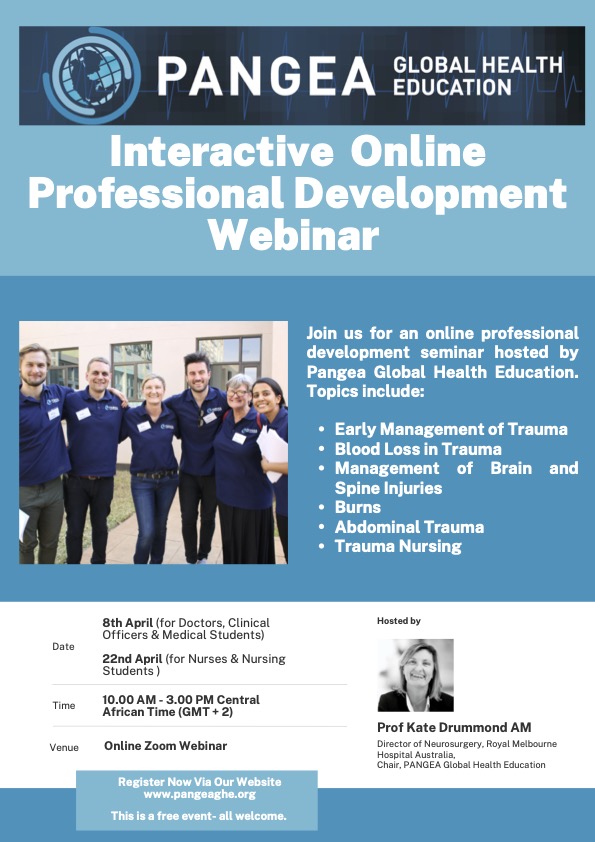 Some feedback that we recently received from those who attended the our online seminars included:
"The seminars are really helpful reminders to our clinical practice, thank you for your efforts"
"Keep it up, you are really impacting the Nursing community"
"I must say I found the seminar very educative so much so that it helped improve my knowledge on the topics that were covered."
"Thank you for your time, I have learnt a lot which and I will change my day to day care of my patients"
"I wish this could be done 4 times a year, I have learnt a lot"